Testing of Mineral™ efficacy 
Production site Bantale, Bitnje pri Kranju, Slovenia, 2014
Supervised by Tatjana Rupnik, dipl.ing.agr.
End of June 2014
Tomato seedling, different varieties left from sale on the market, were quite in bad condition and were planted instead destroyed. Planting was a month late compared to the season.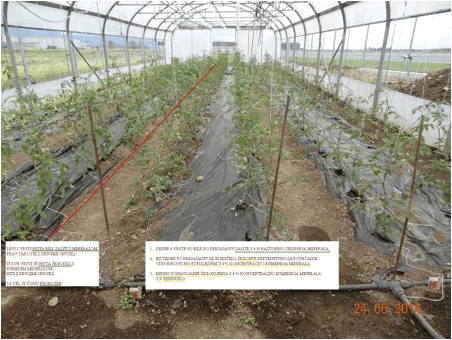 LEFT:
2 rows with no Mineral™
RIGHT:
4 rows treated with Mineral™ Green at planting ( 4 % solution 500 lit/ha) plus spraying with Mineral™ Yellow once per week (3 times also 4% solution 500 lit/ha) as prevention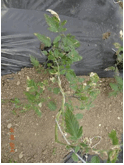 Seedlings are in poor condition, leaves are damaged by stress and food deficiency, roots are underdeveloped from little space in pots. Differences are seen as planted varieties differ.
Supply of Mineral™ Green allows faster blooming.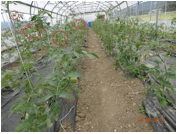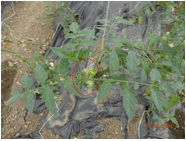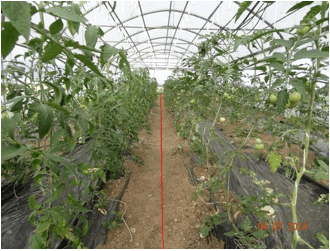 The obvious difference are in the development of plants: tomatoes watered with 4% solution of green Mineral ™ and once per week sprayed with 4% solution of Mineral™ Yellow have  lots of fruit, which gain in size fast and go to maturation;
Flowering stems and floral buds are developing fast during flowering of tomatoes.
Plants without Mineral™, have practically floral buds.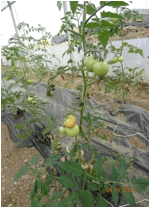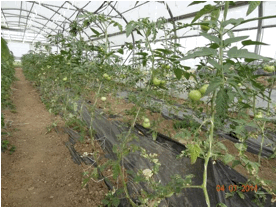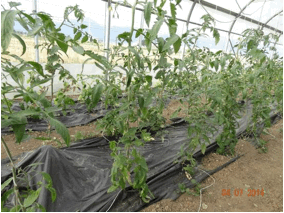 Good fertilization in spite of bad weather conditions (lots of rain). Floral buds are developing during the flowering on all plants.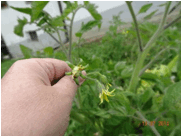 FIVE WEEKS AFTER PLANTING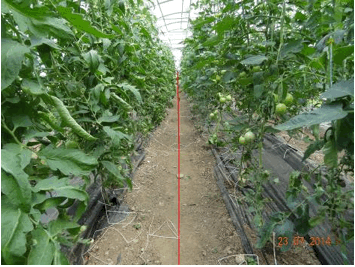 The difference in size is not big but the difference in maturity and quality is very obvious.
Minus of this test is not selected varieties. But, even in this it is easy to see that plants treated with Mineral™ are strong and sturdy with dark green and fatty leaves. Not treated plants give the impression to wilt.
(Picture taken from the opposite side.)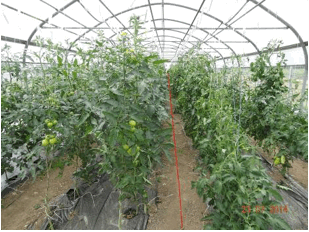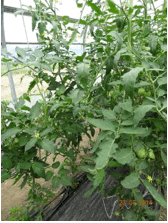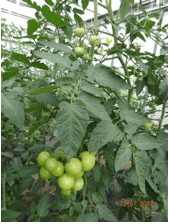 The variety on the left gives less fruit compared to the one on the right but the difference is enormous, also leaves are paler and thinner and budding is poor.
The plant gives the impression of abundance  not only by the number of fruits, buds are strong, leaves are dark green from increased photosynthesis, they are fatty and have thick and rough cuticle which indicates increased resistance.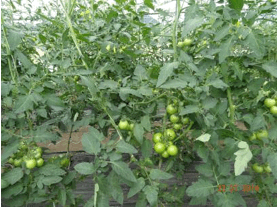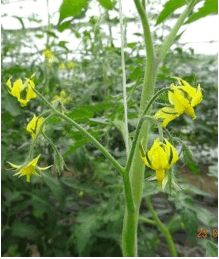 WITH MINERAL™
Intensive color, pistils and stamens are strong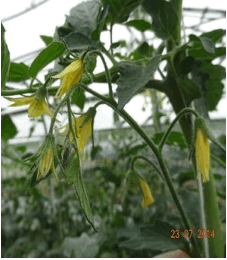 WITHOUT
Pale and withered blooms less ready for fertilization
DIFFERENCE IN FRUIT SETTING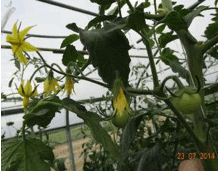 WITH MINERAL™
Fertilization was a success
Fruit setting is very good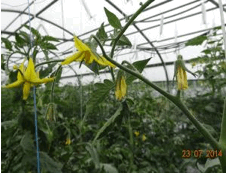 WITHOUT
Majority was not fertilized
Blooms are dry and fall off
NINE WEEKS AFTER PLANTING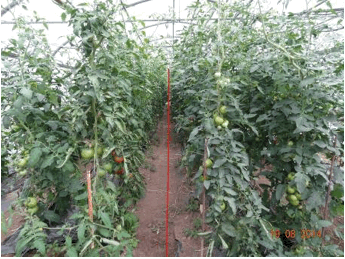 (Picture takem from the opposite side.)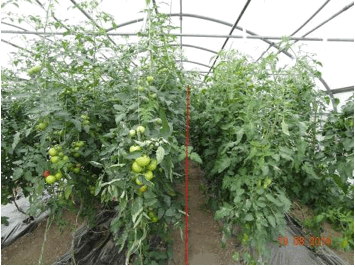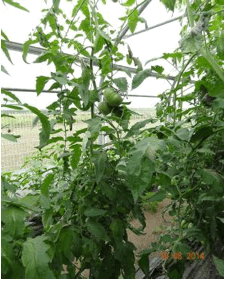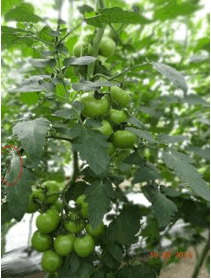 DIFFERENCE IN HEALTH
In tenth week the attack of mold was rather strong as the weather in September of 2014 stood on the rainy side.  No fungicide or pesticide was used whatsoever. The effects of Mineral™ had shown in full. All plants treated with Mineral™ were able to stop the mold and continued with their growth and production of fruits. The number of fruits increased, they are lustrous and strong. Tomato plants are still in intense blooming.
The test field shows tired and exhausted plants. It can be seen the lack of nutrients. And, of course, the attack of mold had multiplied success over plants.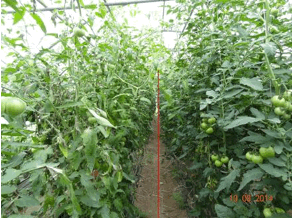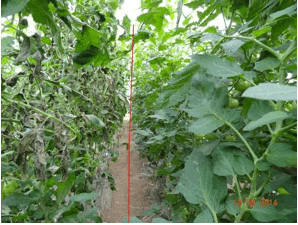 Tomato varieties differ in sensitivity to fungal diseases but after almost a month of sickness attack it is a surprise that it did not spread in the part where plants were treated with Mineral™. The raise of disease was expected as sick plants are in the neighbor row. It is not the case in this test.
Infested plants on the field part not treated with Mineral™ either died or completed their vegetation.
On the other hand, plants treated with Mineral™ are in intensive production, the blooming continues and even growth is still in progress.
OCTOBER  2014 (3.10.2014)
(both sides of the field)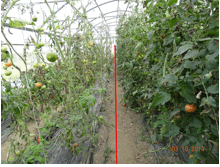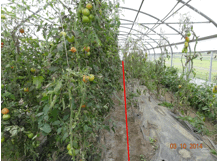 Differed size and shape
Low coloration
Damaged skin
Uniform size and shape
Good color even with not much sun
Healthy, strong, lustrous, tasty fruits
CON CLUSIONS:
Positive effects of Mineral™ are:
In developing phase: accelerated, more intense and prolong vegetation; plants are very uniform in size and body habitus.
In flowering phase: greater intensity, the abundance of flowering, more intense coloration (that attracts more pollinators: bees, bumble bees, etc.), the greater the exposure of generative organs and therefore easier and more successful impregnation; flowering starts earlier and lasts longer,
In the development of the fruits: an earlier, faster, accelerated, more intense and longer production
Photosynthesis is faster and stronger which affects the quality of the whole plant (dark green leaves with a thick cuticles, strong stem and erect growth) and fruits in particular as a final result.
Increased resistance of plants against diseases, pests, stress (weather, heat, etc.) was obtained.
Neutral effects of Mineral™ use:
Mineral ™ offers plants balanced food. Therefore the result is not reflected in excessive growth, as happens with the addition of nitrogen to plants, but in the uniformity of the crop.
The quantity of the crop was not the issue of this test but it can be concluded without counting that the number of good, salable tomatoes is fair and not excessive.
Tatjana Rupnik dipl.ing.agr.
As an Ltd.
Ljubljana
Slovenia
Ljubljana, 10.10.2014